With the continued rise of esports and esports betting, now might be the time to start investing in the industry. One company to look into is Esports Entertainment Group (EEG) . EEG is a licensed online gambling company focused on esports. They offer customers and fans the opportunity to wager on all esports events, including the chance to participate in mobile, console, and PC video game tournaments for cash prizes. With a strong strategy, big partnerships, and strategic acquisitions, it might be time to invest in Esports Entertainment Group.
Three Pillars Strategy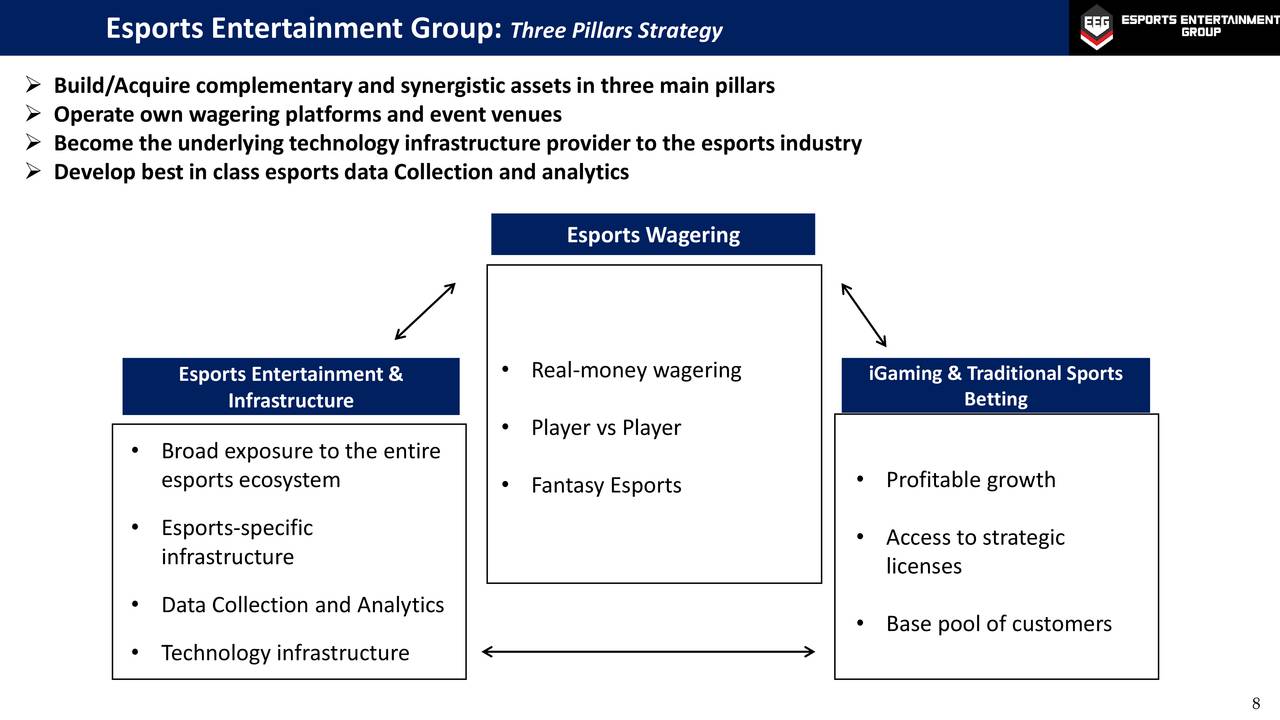 Source: https://esportsentertainmentgroup.com/wp-content/uploads/2020/11/GMBL-Investor-Deck-11.14.pdf
EEG operates its business based on a three pillar strategy: Esports Entertainment & Infrastructure, Esports Wagering, and iGaming & Traditional Sports Betting. All three pillars work in synergy to provide the best products possible for both consumers and investors.
Jaycee Tenn of Benzinga outlines each of the pillars:
Esports Entertainment and Infrastructure – the first pillar consists of EGL (tournament platform), Helix eSports (entertainment center), ggCircuit (cloud-based software for gaming centers), and Genji (esports analytics provider)
Esports Wagering – the second pillar consists of both 

Vie.gg

 (esports wagering platform and LANduel (player-vs-player video game wagering platform)
iGaming & Traditional Sports Betting – the third pillar consists of Argyll Entertainment (traditional sportsbook & iGaming) which operates under the brands SportNation and 

Redzone.bet
Strategic Partnerships
2020 was a big year in terms of partnerships for EEG , mainly in the traditional sports arena:
All the partnerships were formed in order for the teams to find new ways to connect with their fans in a unique way. EEG will host branded tournaments for the teams to interact and engage with their fanbases, in an effort to also show the appeal of how esports and traditional sports can coincide with the same group of people. Especially with the previous and upcoming seasons for these teams allowing limited or no fans at all, teams needed to find another way to engage with their audiences, and EEG is a perfect way to do so through the different assets and products they have acquired. As we see more big name brands use esports and gaming to connect with potential consumers, the same goes for professional sports organizations and leagues. They all want to keep growing their consumer base and global audiences, and right now this is the industry that can do that.
They also previously partnered with Allied Esports  to launch the VIE.gg CS:GO Legend Series tournament, which was a great success overall. The tournament caused a 400% increase in registered new users and a 300% increase in customer deposits for VIE.gg during the two-week tournament period compared to the prior two weeks.
Key Acquisitions
It was not just those partnerships that caused EEG to have a big year, and some of those partnerships would not be possible without some of the key acquisitions they made in 2020:
Helix eSports operates five gaming centres in the US, including one located in Massachusetts in partnership with the Kraft Group that is home to the Boston Uprising of the Overwatch League
Helix also merged with Team Genji, an esports analytics company that already has an existing relationship with FIFA and the NBA 2K League
ggCircuit offers a cloud-based management system, tournament platform, and integrated point-of-sale solutions for enterprise customers
Their network contains more than 1,000 connected locations, with clients ranging from GameStop, Dell, Best Buy, and Lenovo among countless others
Online sportsbook and casino operator with the UK and Irish markets
Acquisition includes flagship gambling brand SportNation.bet
Provider of live and online esports events and tournaments
Services include full turnkey esports events, live broadcast production, game launches, and online branded tournaments
Will be used in the partnerships with the major professional sports teams to run their tournaments and events
A Malta licensed online casino operator
Bring in over 30,000 monthly active players
These acquisitions should help EEG leverage the esports betting and tournament growth. They are now able to meet their customers needs globally through esports tournaments, events, betting, and casino play. Together, it will lead to higher interest and engagement from consumers, possible investors, and partners which is evident through some of the new partnerships that were formed based on these acquisitions. Their moves have enabled them to hit each pillar of their business strategy, and it all seems to be coming together for EEG going forward.
Esports Entertainment Group has not reached its full potential. Still a small cap organization with their market cap currently sitting under US$100 million, there is substantial room for growth in this market, and with these new partnerships and acquisitions set to be a part of the organization for a full year for the first time, 2021 could be a big one for EEG. They have firmly committed to their three pillars business strategy going forward, and have made massive decisions under that guidance for the future. Now might be the right time to get involved as esports betting continues its rise globally, and EEG is set up to go along with it.