As more and more people begin to invest in the growing gaming industry, the first companies they look at are typically the big name developers and publishers such as Activision Blizzard , Take-Two Interactive , and Electronic Arts (EA) , among several others.
One company to look at is Unity Technologies . Unity has only been public since September of 2020, but since, its share price has risen over 100%. Unity isn't the traditional gaming company you would typically look to invest in. It doesn't have the fancy, as well known name, as their primary business is software development and video game development tools.
Unity provides a variety of software for game developers and content creators to use. And this is what makes them such an intriguing investment going forward. Travis Hoium put it perfectly in his article for the Motley Fool: "It's the platform Unity has built that will be valuable long-term, and it's stickier than any game by itself because Unity's customer is the video game developer". Unity doesn't have to rely on each individual game to be profitable, as long as the video game industry as a whole continues to grow, Unity's products will be needed and wanted.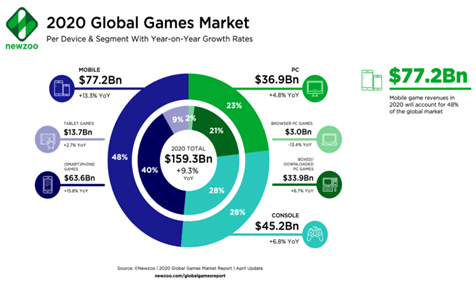 Source: Newzoo
And as it stands that looks to be the case. Newzoo estimated that the the global games market generated US$159 billion in revenue in 2020, and is expected to reach the US$200 billion mark by 2023.
As the gaming market grows, so does the number of people, specifically developers who try to get in it. Yes, Unity's main customer base features game developing titans like EA , Nintendo , Take-Two Interactive , and Zynga , for starters, but it also features tools that don't require heavy coding which helps less experienced developers build games and get into the market.
It isn't just gaming that Unity builds products for. They are consistently investing in building opportunities outside of gaming, in industries like architecture and engineering with 3D design capabilities, automotive designs, and the animation film industry with 3D tech.
These next stats show Unity's reach both inside and outside the gaming industry:
Used by 8 out of the top 10 architect, engineering design and design companies in the world
Used by 9 out of the top 10 automotive companies including Honda, Volvo, and BMW
53% of the top 1,000 mobile games in Apple's App Store and Google Play have been created using Unity's solutions
Approximately 90% of the content on emerging AR platforms is made using Unity engine
94 of the top 100 global game development companies are Unity customers
Source: https://seekingalpha.com/article/4397153-unity-software-long-term-winner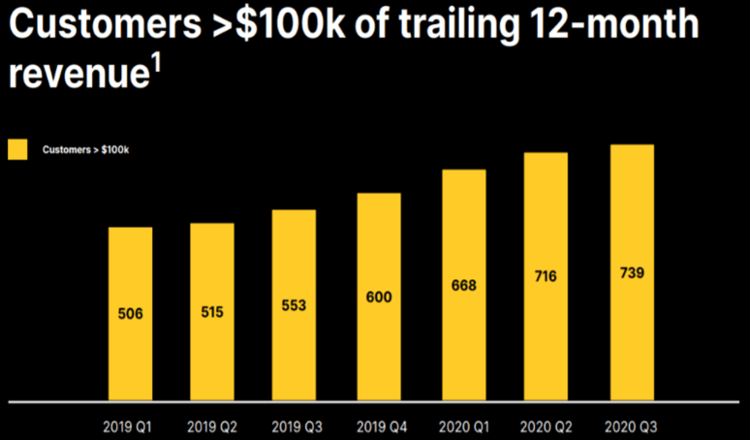 Source: https://seekingalpha.com/article/4397153-unity-software-long-term-winner
Unity's growth for the long term will continue to hinge on the increase in their large customer base. Each quarter has seen an increase of the number of customers that generate over US$100,000 in revenue for them, with the current growth rate of the industry, this uptrend is one that should continue.
While Unity has yet to achieve operating profitability due to its continuous investing in R&D and marketing, that does not mean they aren't fundamentally strong financially. Their operating margin and revenue both drastically improved in Q3 2020 compared to Q3 the year prior, and through the first 9 months of 2020 their free-cash-flow improved by just over US$60 million.
Unity  has positioned itself well for the long-term. Through the expansion of their business operations and strong customer base within the gaming industry, Unity should be a strong play for years to come. Even with significant investment into other industries, they will still be primarily connected with gaming. If you believe in the growth rate of the gaming industry, then you can have faith in Unity too.